Highlights
Partnered with Leah Martensen on the "Road to Recovery Tour" for over 6 years, which ministered all over the country, in over 36 states
Featured twice on "The 700 Club" national TV program 
Shared the stage with national recording artists such as Danny Gokey, Building 429, FFH & others
Sold over 5000 copies of her CDs: "The Best Is Yet to Come" (2017), "I Remember Christmas" (2012), "Just a Glimpse" (2010), "Postcards" (2005), "All I Have" (2002), and "B-sides & Extras" (2005, EP)
Radio play on stations around the country
Recognized in multiple contests, including 1st place winner in the Contemporary Christian Music Network International (CCMNI) Songwriting Contest, for "Save Me", Also recognized in songwriting contests through CCM Magazine, KCCM Music awards, and others
What people are saying...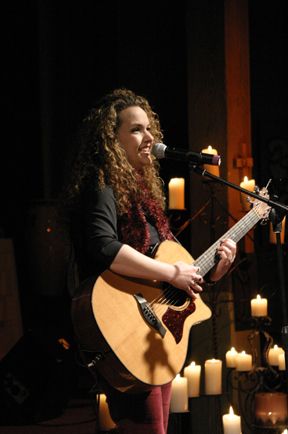 "Thank you for being our Worship Leader and Keynote Speaker on February 2, 2018 at WoW 2K18, our special event for middle school girls. It was evident that your time at WoW was bathed in prayer from the moment we contacted you to participate. We appreciate that you were able to use our curriculum theme, Occupied, to share your testimony with the girls.

Your unique way of weaving music, God's Word, and prayer captivated the girls and touched their hearts. You have the gift of making one person feel as if you are speaking directly to them, when surrounded by 200+ people.

It was honor meeting and worshiping with you!"

Tracy Ruland & Claire Kocik
WoW (Women of Worth) 2K18 Co-Directors
---
"We have had the opportunity to host Beth at our church a couple of times. Beth is exciting, anointing, enegetic, and a breath of fresh air. Beth also brings a level of professionalism that is second to none."
Lead Pastor at Clearview Church
Virginia Beach, VA
 
---

"When singer/song writer Beth Champion Mason ministered in our Night of Worship in our Recovery ministry this summer, something amazing happened. Everybody in the room soon engaged with her spirit as she magically shared her music and testimony with us. There was joy and there were tears in the audience. God's Holy Spirit spoke to us all very clearly through Beth: There is a day and a moment for each one to come to God's arms, He is a God of mercy who transforms us one step at the time as we surrender to Him, and He wants to use us for His glory with the talents He has placed in us. Definitely, Beth Champion Mason is an anointed worshipper used by God to penetrate the heart of anyone, regardless of age or where we are in our walk with the Lord. Beth has God's ability to bring us one step closer to God though her songs and testimony. Beth is a true worshipper in spirit and truth."


--Pastor Alejandro Amaya
Elder and Overseer of the Recovery Ministry
Community Church at Western Branch
Chesapeake, VA
 
---

"Beth, after co-leading worship with you in December, and then having you come lead worship this month, I felt the need to simply say thank you. As you know KPC is a unique and wonderful challenge to lead worship. We are VERY multi-generational, old school, with a blend of modern charismatic expression. You stepped in with a grace and experience that quickly put everyone at ease, and you lead like you had been a member for years. I so appreciated both your sensitivity to the Holy Spirit and the congregation. You clearly took us into His Throne, ALL OF US. Thank you for serving the greater body of Christ with your gift. Mostly, thank you for leading from a loving and vulnerable place."

--Joshua Hermiz
Worship Leader
Kempsville Presbyterian Church (KPC)
Virginia Beach, VA
 
---

"Beth! You are brave, and beautiful! You really trust in the Lord to share your message as you do, and we are all moved deeply by your words and your voice! Thank you from the bottom of our hearts. We could listen to you again and again and again."

--Nansemond River Baptist Church
Friday M.O.P.S. Group (Mothers of PreSchoolers)
 
---

"Every so often you will hear someone speak of their lives and you just have to say, 'that is really where I am at.' This is Beth Champion Mason as she speaks in both word and song about her life and her Christ Journey. No matter if you are young or old, she will minister to your heart right where it is. Her talent is only surpassed by her openness and sincerity of heart. Let me challenge you not to miss hearing of what Christ has done in her life and ministry which she will tell you is all for His Glory!"

--Pastor Gordon Ellsworth
Senior Pastor
Virginia Beach Beacon Baptist Church
Virginia Beach, VA
 
---

"Postcards shines through sincere and refreshingly poetic lyricism."

--Christa Banister
Christianity Today, www.christianitytoday.com
CD Review of Postcards
 
---

"Beth Champion Mason...a new and refreshing sound in contemporary Christian music. Beth's melodic vocal style and reflective songwriting are both captivating and appealing to listeners of all ages. Through her songs, she relates personally to her audiences and challenges them to a deeper level of commitment in their faith walk with Jesus. I would recommend her without any hesitation to any youth ministry leader looking to use her gifts in worship leadership to enhance a retreat, camp, conference or Disciple Now."

--Dr. Kenneth W. Dibble
Youth Ministry Strategist
Emerging Leaders Team
Virginia Baptist Mission Board
 
---

"Beth and her team did an outstanding job in bridging two generations of church experiences; the young and the old were blessed by her testimony and music."

--Tim Robertson, Senior Pastor
Central Baptist Church
Portsmouth, VA
 
---

"Beth Champion Mason is able to achieve relevance & individuality with a unique sound that defies description! Beth frames Christ's message of hope in her lyrics, and reaches an audience populated by believers and nonbelievers alike! In fact, the first play of the single, "Postcards," lit up the phones from people on both sides of the Spiritual fence! "Lavish Love" is both incredibly worded & encouraging, but also musical genius! The background vocals are rich & lavish as well! This is a CD filled with hit after hit! There is no filler in this effort at all, one song is as good as the next & they all hit the mark! … If I was being stranded on a desert island & could only bring 5 CDs with me, two of them would be "Postcards"—just in case one of them broke!"

--Pastor Samme Palermo
aka, Uncle Samoo
"Uncle Samoo's Zoo"
WITR-FM, Rochester, New York
 
---

"After the short concert, I was so impressed with her skills and her spiritual maturity that I decided, with the nudging of my friend Elton, to do something I normally don't do at musical venues—buy all of the CDs! The next morning, I ripped open Beth's latest CD, her sophomore album called Postcards…. I spent the good part of an hour soaking in the beauty of raw emotions, deep lyrics, and full-bodied instrumentation. "

--excerpted from "Beth Champion Mason: Journey of a Songwriter"
By Laura J. Bagby
CBNMusic.com
( http://www.cbn.com/cbnmusic/interviews/bagby_BethChampionMason05.asp )
 
---

"Beth, the songs performed at our wedding were fantastic. 'Just Can't Love You Enough' was so fitting for our ceremony. Thanks so much."

--Doug and Kim Hamilton
Smithfield, VA
 
---

"Beth, Wow...what a great weekend! Thanks so much for coming and bringing the band and leading us into the presence of the Lord each night and on Sunday morning. I have heard nothing but high praise for you and the guys. I thoroughly enjoyed hearing "Lavish Love." It was great to hang with you again. Ed, Andres, and Preston are great musicians and I enjoyed getting to know them. I will happily give good word to anyone that wants to book you. If the students have their way, you just might be back here again. They're clamoring already!!! Thanks again and God bless you and the boys as you serve Him!"

--Chris Newcomb, Director of Touchpoint Student Ministries
Swift Creek Presbyterian Church, Moseley, VA
 
---

"When we were considering the music line up for Music Fest '06 we wanted lively, upbeat performers. Beth gave an energetic performance and added a bit of personal testimony to round out the show. The performance was professional and the music was great."

--Dave Swinehart, Music Fest Director
Community Church of Chesapeake, Chesapeake, VA
 
---

"Beth not only invested her talents and skills into leading thoughtful and thought provoking worship, but invested her time and life in my kids that attended our short term mission project."

--Tom Lynch, Youth Pastor
Memorial Baptist Church, Arlington, VA
 
---

"THANKS so much for sharing your ministry with our church tonight. Everything I had ever heard about you was so true! We truly enjoyed our time of Christian fellowship with you & your band. Our youth can hardly wait to make plans to have you back again! Continue to share God's love in the wonderful way you do. You are a blessing to EVERYONE you meet!"

--Donna Outland, Youth Minister
Colosse Baptist Church, Windsor, VA
 
---

"Beth Champion Mason is a true 'soul artist' - one who reflects God's glory from the deep places of who she truly is."

--Thomas Barron
Catalyst Coffeehouse, Virginia Beach, VA
 
---

"It is with pleasure that from both professional and personal aspects I am able to recommend to you the talents and services of Beth Champion Mason. Beth and her ministry have supported our annual Christian Shine Your Light Festival held at the Buckroe Beach pavilion in Hampton VA over the last two years. Beth's heart for God shines through in song and testimony reaching both the saved and unsaved alike. During the time I have known Beth, I have had the opportunity to interact and work with he in professional settings, charitable activities, and personal and social settings. In all facets of interaction I have found her to be a person of organization, careful thought and dedicated to the call of Christ on her life. It is because of these attributes I can with full confidence recommend Beth Champion Mason and her ministry to you."

--Buddy L. Chapman, Evangelist Minister
President, Keep the Promise Ministries
 
---

"Beth and the band really impressed me. Their sound is of the highest quality and off stage they were friendly and approachable. Their ministry is genuine and relevant."

--David Gholson, Pastor
Bethel Church of Norfolk, Norfolk, VA
 
---

"Beth's strong vocals and passion for God enabled her to easily connect with our congregation. Her vivacious personality and commanding stage presence made it quickly evident that Beth belongs on the Journey stage. Journey Church and I highly recommend Beth Champion Mason."

--Tom Planck, Senior Pastor
Journey Church, Cincinnati, OH
 
---

"I've been wanting to e-mail you since you came in December to sing at our church, Victory in NJ. Thank you so much for your ministry and passion for the Lord. Please let us know when you are in our area again as we'd love to have you."
--Tammy Lehn, Worship Director
Victory Assembly of God, Pittsgrove, NJ
 
---

"Beth, it was great having you here. I love your music and spirit. The band did a great job...My favorite song is Hallelujah ["All I Have"]. Great song. Thanks for coming!!"

--Jim Wolfcale, Senior Pastor
Atlantic Shores Baptist Church, Virginia Beach, VA
 
---

"Beth, thanks so much again for taking the time to be with us. I must tell you, you created quite a 'roadie' group here with the young ladies. I have had numerous calls of thanks for the blessing you were. Diane the Pastor's wife asked me to pass her special thanks. Thanks so much once again. I was most impressed with your humble spirit, and your short testimony. Someday I hope to hear the whole story. Obviously the LORD's anointing is upon you. Thank you for sharing the journey with us. Thank you sister for sharing your gift and blessing with us."

--Bill Dudley, Worship Leader
Virginia Beach Beacon Baptist Church, Virginia Beach, VA
 
---

"Just wanted to thank you for such a wonderful time. We have definitely become fans. God bless you and your ministry. We want to stay connected.

Thanks again"

--Tom Andrews, Pastor
Harbor Pointe Community Church, Hampton, VA
 
---

"Thanks for leading in music, sharing your testimony with our students, and for the fun we were able to have. You are a fun person and did a wonderful job. Looking forward to having you share again."

--Anna Perry Miller, Minister to Youth & Young Adults
Derbyshire Baptist Church, Richmond, VA
 
---

"You blessed us with your music and your testimony of what the Lord has done in your life. I am very excited about the wonderful things the Lord has in store for your ministry. Many people will be healed, restored, given victory, too numerous to name, through your songs."

--Pastor Ed Bailey
Town Center Church, Virginia Beach, VA
Beth Champion Mason is a singer, songwriter, worship leader, recording artist, producer, and teacher, among other things. But Beth's music ministry didn't start with a career plan—it started with a calling.

Though Beth loved music growing up, starting on the piano at age 7 and writing her first song at 12, Beth's life took a definite detour through her teen years which sidetracked her early goals of pursuing music professionally.

"I kind of gave up on that dream by the time I reached college age," remembers Beth, "and instead I majored in English, thinking I'd be a novelist, or more realistically, an English teacher." But God had other plans.

After college, things seemed to be going great for Beth: she married her sweetheart Lance, got a great job as a writer in the computer field, and quickly racked up successes and promotions. But the successes were empty for Beth; in her heart of hearts, she just knew that career wasn't her destiny.

"I started desperately seeking God's will at that point," Beth recalls, "asking Him what I was supposed to do with my life."

And one day He answered. That still, small voice whispered unmistakably: Music Ministry.

"When I first knew that's what God was calling me to do, I was kind of frustrated," Beth says. "I argued with Him, listing all the reasons I couldn't do that: I didn't have a degree in music, I had a full-time job, I had a mortgage, I had a less-than-stellar past history. But in the end, I just prayed, 'God if that's what You want me to do, You're going to have to open the doors because I don't know how. But if You open the doors, I'll walk through them.'"

Open doors, He did.

At the time Beth couldn't have known that now, over 15 years later, those open doors would lead her to sharing her testimony and music all over the country, or touring to over 36 states, or sharing the stage with national artists like Danny Gokey, Building 429, & FFH, or leading worship at the Focus on the Family headquarters in Colorado.

She didn't know that God would open doors for her story to be featured on The 700 Club TV show, where over 1000 people would call in to dedicate their lives to Christ.

She couldn't have known that God would open doors for her to record 5 full-length albums that would sell over 5000 copies so far, or have her music featured on radio stations all over the country, or host her own radio show.

And Beth certainly didn't know that her music would garner her numerous awards over the years, from places like CCM Magazine, CCMNI network, KCCM Music awards, and others.

"All I know," reflects Beth, "is that God has called me to do this. I have a story to share, about His grace and about second chances. I think my calling is to help other people find their calling. And as long as He keeps opening doors for me, I'll keep walking through them."